My Thoughts
Adopting a portfolio of Youth Players can pay off, however this is a long term strategy and you can expect that your hold will last the full 3 years, with no guarantee of success.
I hold some Youngsters, but the majority of these are players are already featuring in their squads, and have actually earnt me some dividends already.
The majority of my portfolio consists of Media Buzz players, but I am not saying that the Youth Strategy is an incorrect one.
Let's get into it!
Why are Youth Players highly priced?
The main reason that we are seeing highly priced youth players is that traders are trying to anticipate who will be the next big stars!
Can you blame them? Look at the prices of the top stars; Neymar £19, Messi £15+ & Ronaldo £10+.
If you could purchase a youth player, destined to be a star for £1-£2, the returns have the potential to be huge!
Buying youth players is a genuine strategy, however there are plenty of downfalls.
A tiny amount of players actually reach the 'elite' status, so there is a great chance that you will be holding quite a few players which have the potential to be poor investments.
It doesn't help that the prospect of playing football in China is now turning Footballers heads.
Recent casualties have been Oscar & Yannick Carrasco, I enjoy Spanish Football and the few times that I watched Carrasco, I have been amazed by his skills. There isn't too much separating him and Eden Hazard, his National teammate.
Oscar also won many awards with Chelsea, was a regular starter for both club & country. Since his move to China, he has accepted he won't be included in the National Squad, but admitted he didn't care!
Barcelona's Malcom is potentially the next victim of the Chinese Super League.
If Youth Players take this same stance, they simply won't develop to the levels of Messi & Ronaldo, who play with complete passion & aspire to be the very best each season.
How much of this is hype?
Things such as YouTube definitely enhance the hype in a football player on the Index. You can search for almost any player and watch a 10 minute clip of them doing skills, slick dribbling & scoring goals.
You can make yourself believe you may have unearthed the next big thing, and he's only £2 on the index… perfect!
However, just because the player is scoring in an under 18, under 23 game, doesn't mean he's a sure fire starter for their first team, able to run rings around the likes of Virgil Van Dijk!
I'm a Man Utd fan, so seeing such youth players like Chong, Hamilton & Gomes has me quite excited for the future.
However, I don't see them as sure fire Media holds, especially in the next 3 years. Performance Buzz is a complete waste of time, as the likes of Martial, Rahsford & Pogba can't win with our current play style!
Mason Greenwood is this years hype man, rightfully so as he's scored 16 in 18 games, albeit in the Under 18s.
If he makes it onto the pitch, hype alone will probably see him rise £1, with the current state of the Index.
However, it has me thinking of previous United Youth players, who fans demanded to see, the likes of Will Keane, James Wilson, who boasted similar stats in the Youth League.
Neither could make it, in fact I think James Wilson only played a handful of times in the first team squad.
Do you remember when Federico Macheda scored that stunner in the win vs Aston Villa?
If the Index was around then, I wouldn't be surprised to see him valued at £5 following his goal.
Unfortunately, he struggled to develop and now plays in Greece.
The moral of the story: It's always best to hold some reservations on players, until you've seen them perform in the big leagues.
In contrast to all of the Youth league hype, it's worth noting that Marcus Rashford entered the scene for the Man Utd first team because of an injury crisis. He was brought up by Louis Van Gaal, who saw potential in him, although looking at his Youth Stats he scored only ONCE in 8 games in the 'Premier League 2'. Which is a complete contrast to the over hyped youths.
Should I expect an Impact from my Youth Wonderkids?
In short, don't expect too much from your wonderkids. You are purchasing these players for their potential ability, rather than purchasing a player to earn you matchday dividends.
Obviously, there are a few good examples, where Youth Wonderkids are established players for their clubs, but these are quite rare occurrences and you may find that these players are even higher priced than other youths.
When I talk about Youth Wonderkids, I think of players that are up to around 22 years old. There are many players which are currently household names that are younger than this, because they play for their clubs. There are lots of youth players which command a premium price, as they are also competing for dividend returns, aswell as having the potential to improve in ability, which means a price increase!
Marcus Rashford, Gabriel Jesus & Timo Werner are all players which I would class as the 'next generation' of footballers, but they are also getting a considerable amount of matches too. These are the sort of players I mean will be higher priced than other Youth Attackers. Let's call them 'First Team Wonderkids'.
There are also lots of wonderkids which don't command as high a price, as they aren't currently near the First Team Squads for their clubs. This means that they will cost less, but may be more of a risk as they may never get to play for their club.
Tahith Chong, Lautaro Martinez & Pietro Pellegri are players I class as Raw Wonderkids. Raw may be a little harsh, but when I compare them it will make more sense.
I am a big Man Utd fan, for years I have heard nothing but praise for Tahith Chong, he's allegedly the next best thing to come out of our youth system, often compared to Cristiano Ronaldo. Now, this is going to be addressed on a different post as comparisons like this annoy me! However, you can see from the list that they are players with huge potential, who command a lower price than our First Team Wonderkids above.
One of Twitters greatest phrases is '3 Year Hold', which is vital when trying to increase the value of a player you own…
However if you are buying an 'Raw Wonderkid', I wouldn't expect any immediate results at all! You will potentially have to wait this period just to see your player break into the first team. At which point, you have to question investing so much money for such a small & not guaranteed return.
Taking the Three Year Rule into consideration, you would potentially have to sell up before your player hits the headlines. Meaning all of your hard work, scouting a player, investing your time and money into him, has unfortunately gone to waste.
Let me be the first to say I'm not always correct. Most of what comes out of my mouth is opinion, however, Market Trends do not lie.
The Share Split will, and has already to an extent, make the highly priced players more expensive.
Why? These are the players that are winning dividends here & now, the players that will have instant impact on your portfolio.
Money will still go into our Youth Holds, however, so far, I have noticed money moving out of my Youth Holds and into the Top 10 on the Index.
It's not until the top gets squeezed, that the money will filter down. It will happen, but you need patience.
It's also an emotional thing, as if you have a portfolio consisting of solely Youth Players, it will be a massive downer to see parts of the market, which you aren't invested in, climbing at a rapid rate.
Take the below for example, the Big Names are moving on up in price. Lots of Youth Players/Potential stars fell in price, whilst the below risen. The money had to come from somewhere, I guess!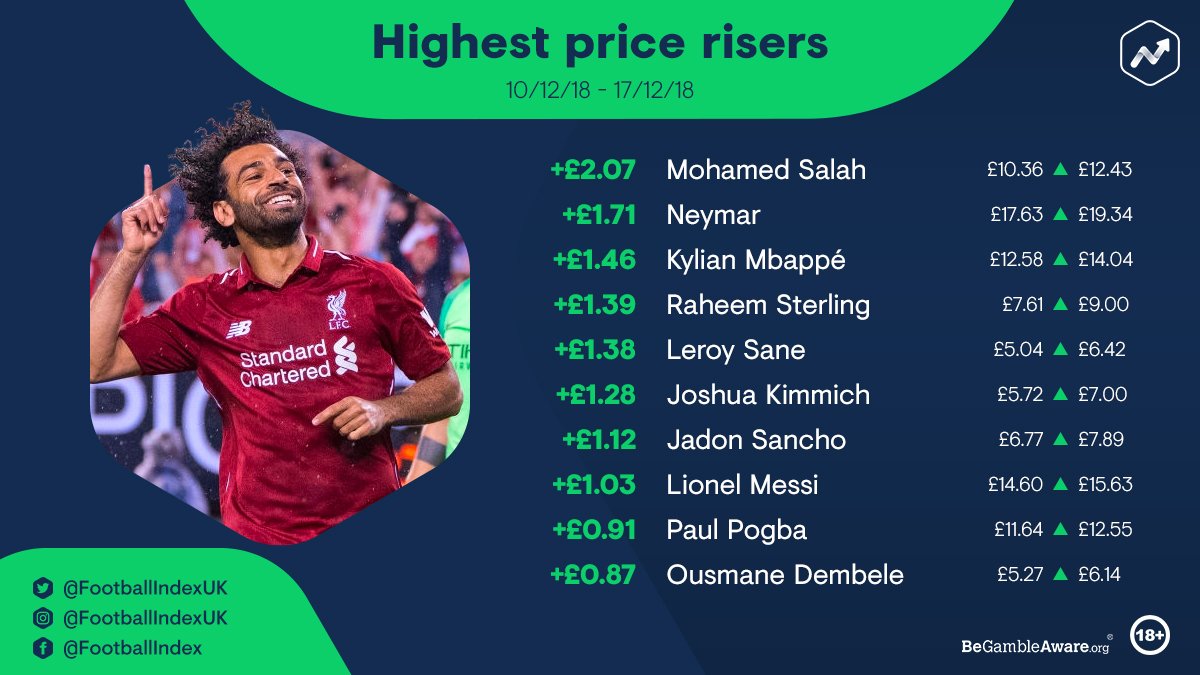 Investing in Youth Players is a difficult one to advise.
If you want to find the next Neymar, you have to invest in almost every Youth Prospect that's showing signs of potential.
This can be costly, but that's the expense of finding a star. This happens often in football.
The list really is endless, players who shown they had a glimpse of something special, only to get lost in the shadows.
Federico Macheda, Hatem Ben Arfa, Bojan, Gael Kakuta, Francis Jeffers, Januzaj, Denilson, Bendtner, Ravel Morrison to name a few off the top of my head.
They were all once touted for big things, to be the next ______ enter past club legend here.