What is Football Index?
Football Index is the worlds first football stock market, offering a completely new way to trade. Members can buy and sell shares in Football players for a profit.
It's an innovating platform, which will allow Football Fans to profit from their knowledge of the beautiful game. This guide will explain how it works, it also includes a Referral Link where you have the option to claim £500 Risk Free when you register.
Use Your Football Knowledge
Knowledge is power when it comes to investing, this is your chance to become a rich fan!
Earn Dividends
Receive cash payments of dividends for your players performing well.
Find the next superstar
Messi is currently trading at £8 (01/01/2018). What if you could have shares in the next Messi?
March 2018 Update: Messi is trading at £10.50!
Buy Low & Sell High
To make money you need to buy low & sell high. Use our player Reviews to find the best players to invest in.
A New Approach to Gambling
Football Index offers a way out for punters who are fed up of losing money with the bookmakers every weekend.
Football Index is gambling, just like if you invested money into Stocks & Shares.
However, the thing that we really love about Football Index, is that you can never lose your whole stake. Players can gain and lose value, but they can never lose their full market value, meaning you can't lose out. It is gambling, but it's nothing like placing a bet with a bookmaker, such as BET365.
Performance Buzz
Explained
If players in your portfolio perform well, they will win you Cash Dividends. The amount they win depends on how many games are being played on that day.
The best Defender, Midfielder & Forward will win dividends, with additional dividends being paid out to the Overall Star Player.
Football Index have recently Doubled Performance Buzz Dividend Payouts, as pictured here.
This is a fantastic addition from Football Index, previously there would be no performance payouts at all… it was Media Dividends only!
The Defining Moment for Football Index
Media Buzz
Explained
Media Buzz gives your player an additional avenue to earn dividends. It focuses on Media Attention, so if your player is regularly in the spotlight, there's a great chance you'll be banking dividends.
Articles are scored based on their headlines, so if they are full of praise they will be high up the leaderboards.
Only the Top 200 players can earn dividends, so it's a fairly reduced pool.
What's worth mentioning is that Neymar, Pogba or Messi are the most popular buzz winners. It's more predictable than you'd think!
You can win by placing in the top 3 of the Media Buzz, however this is reduced to First Place only when a Performance Buzz dividend day is occuring
Media Buzz
It can be easy to predict the trends for media buzz, typically a team such as Barcelona,Real Madrid or Man Utd is linked to a top player at the start of the window. I have a guide ready for determining the sources which are worthwhile and not. If you can follow the trend and manage to find this player, (This season was Coutinho) you will be earning media buzz dividends throughout!
I almost got it correct this year, I had Neymar, who did win a few good dividends. I also predicted Coutinho would be the replacement but as I went deep stakes on Neymar, I couldn't fully take advantage.
Very regularly, it's the same names who win the dividends. Attached below, is the last few days winners. Media Buzz dividends can be an easy earner.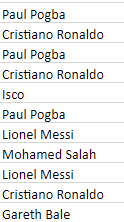 There really hasn't been a better time to get started with Football Index… even more so as you can claim £30 Cashback when registering!
How is A
Player Share Price Determined?
Media Buzz is the original way to earn dividends. This time, players that have many articles posted about them will win the dividends. It's set on a scoring system which means the more positive the article, the more points they will score.
It's hard to predict day to day, but the 'Top' players generally have most stories written about them. During transfer window periods, it depends on which players a club may want to sign.
Only the Top 200 players (First Team) can earn dividends.
What Causes A
Players Value to Increase/Decrease
Since Performance Buzz has been introduced, there has been many factors which can increase a players share price. For example, if there's a low priced player around 80p a share consistently earning dividends, he will be sure to rise as a dividend is worth around 8% ROI at that price! Performance has a big impact, and dividends are payable to the top leagues.
News and gossip stories also cause big movements, as all traders want to get in on that player before his meteoric rise in value!
The final key factor which will cause a change is the traders themselves! If they start piling lots of money into a player, it will increase.
Is there a
Perfect Strategy?
There is no perfect strategy, as traders have to adapt to ensure they make consistent profits. The main aim being to buy low & sell high, try not to hold on to futures for too long as although the player is showing profit, ultimately until that player is sold it's not profit in my opinion. 
Another key factor is to spread your risk, as if you use all of your trading bankroll on one player, you aren't only limiting your potential dividends payouts, you are also risking an injury or bad form causing your bankroll to take a knock.
Why You
Should Sign Up
Some fans have fantastic knowledge of the game, on Twitter you often see players discussing tactics in-depth etc. Another thing I picked up, is that they know of their teams raw talented players, footballers which are yet to set the world alight. What if fans could put their extensive knowledge to work, making profit from this in the process? With Football Index YOU can.
It's great fun & initially was something which stopped me from wasting money on gambling on sportsbook betting.
The Index is constantly live, so you can always take advantage of a nice trade!
Football Fans love the game, Football Index makes it possible for you to profit with your knowledge.
Take a look at the Recap/F.A.Q Below.
What is Football Index?
Football Index is the new way to trade. As you have learned above, Football Index offers players the ability to buy and sell shares in footballers.
Is Football Index risk free?
Football Index offers £500 Risk Free for new members, but if you are an existing customer, yes it is classed as gambling. Although, if you put your football knowledge to the test, you will be fine!
Why is it different to betting with bookmakers?
There is no comparison between bookmakers and football index.
For example, if you bet on Man Utd and they lose, your complete stake is lost & the bet is completed.
If you invest £20 to buy 5 shares of Messi, but he drops 5p in price, that's only a 25p loss! There is no way that you can lose your full stake, unless something rare happens such as a sudden death of a player, but I'm sure the Index would do what they could to help their members out. They have been really good so far!
What is Media Buzz?
Media Buzz is a way to make money from footballers that you currently own in your portfolio.
Media Buzz is scored by tallying up articles by the Top Publishers such as Talksport and also newspapers. Each article is scored independently, based on how positive the story is.
At 23:00 each night, the scores are tallied up for that day, the player with the most points will then be eligible for a dividend payout. This will be paid into your account if you are eligible.
Note, you can't buy the players while they have high media buzz scores and receive a dividend, you must hold the player in the portfolio on the previous day.
What is Performance Buzz?
The second method of earning money by dividends is Performance Buzz.
Performance Buzz has recently been introduced to help members profit even more from the index!
There are 4 ways to make money on performance buzz. This is split into player positions, so you get one for Top Defender, Top Midfielder, Top Forward. There is also a dividend rewarded to the Top Star.
The Top Star is the player who has built up the highest overall number of points. This can be a player from any position, whereas the Top Defender can only be won by a defender ( and so on)
It is possible to win what's called a 'clean sweep' on the Football Index, earning dividends from all possible positions, plus Top Star and Media Buzz. This isn't very often I'll admit, but when it occurs, your bankroll will take a healthy increase.
How does Trading Activity affect the Share Price?
Trading activity is something which directly influences share price, as if a large number of players are sold, the price will ultimately decrease. If a large number of shares are purchased, the price will increase.
If a trader sees another trader pile money into a footballer, they may think that there's some kind of 'inside knowledge' trading occurring, this will then snowball onto hundreds of traders causing a mass increase!
What is the First Team?
The First Team consists of the Top 200 players on Football Index.
These are players which are tradeable & can earn dividends.
Squad players are not tradeable & not eligible for dividends (as you can't own any shares)
What is the Squad?
The squad consists of every player other than those in the First Team. To be selected for the first team, members must vote on who they want promoted.
Every Friday, two players with the highest number of votes will enter the first team, swapping places with the two lowest priced players from the First Team.
What is Promotion Day?
Promotion day is when two new players enter the Football Index. They enter the market at 25p starting price, so there is tonnes of profit to be made here!
The two lowest priced players in the First Team are relegated.
What is the Sign Up Offer?
Readers of this Review are eligible for multiple promotions, when registering!
You can claim £30 Cashback Here & Also receive a £500 Risk Free Promotion from Football Index.
Any losses incurred within your first week will be refunded, as withdrawable cash.
It's a risk free opportunity to make lots of money!